Transaction Negotiations and Commercial Advisory
Orchid Group has a long history of helping clients perform due diligence on investment opportunities, valuing those opportunities and working through the transaction negotiations and structuring process.
Clients often hire us at the early stages of considering investments to run an initial "fatal flaw" analysis. In such cases, we deploy a cross-functional team to review permits, licenses, key project agreements, site control, project economics and market related issues to assess whether there are any significant and potentially uncurable project flaws before our client makes the decision to move forward with a more in-depth and expensive due diligence process. We also encourage clients to investigate the foreign business partner and people involved directly or indirectly in the deal as these factors can and do impact the final outcome.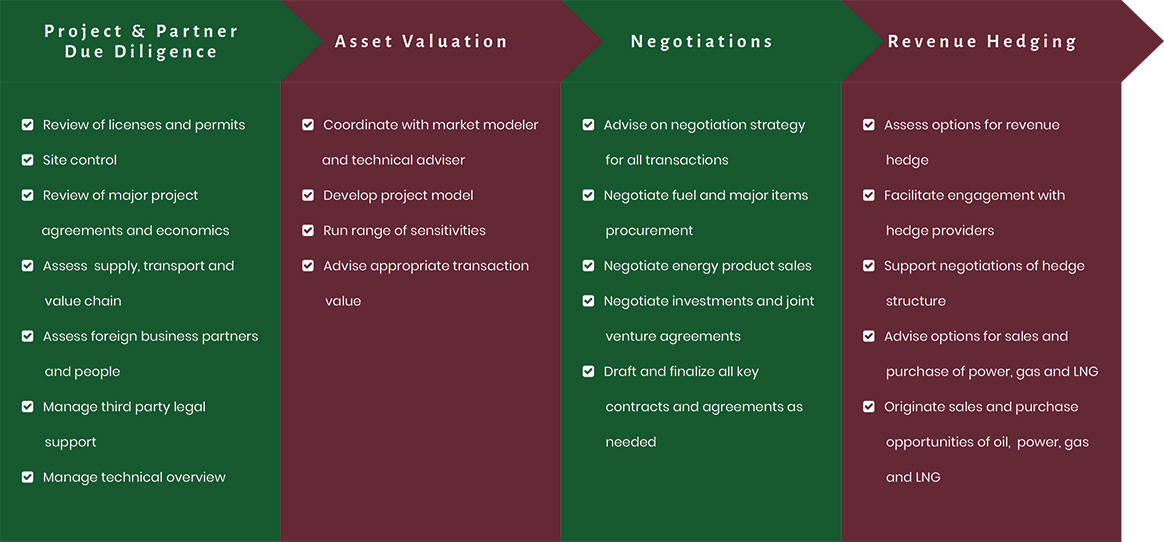 In a more robust due diligence, we are able to advise on market related aspects of the project through our market research arm, advise on broader commercial issues like identifying suppliers, partners and structuring agreements; identifying product off-takers and structuring off-take agreements; assessing options for revenue hedging and facilitating the process of implementing hedging devices. Through Orchid Law, we can provide full legal and regulatory support or we can manage a third party legal advisor on behalf of our client. We also are able to manage the technical advisor to ensure our client gets the maximum out of technical support. Lastly, we can pull all the various pieces together to provide a valuation for the investment opportunity.
Stemming from a successful track record of leading projects on the corporate side, our team is able to offer clients top notch negotiations and structuring support. We are deliberate in our approach, using a variety of tools to thoroughly assess the counter-party's key needs, wants and breaking points in order to craft negotiating strategy that generates maximum value to our client while protecting against potential liabilities and exposures.